Smarties Opts For Recyclable Packaging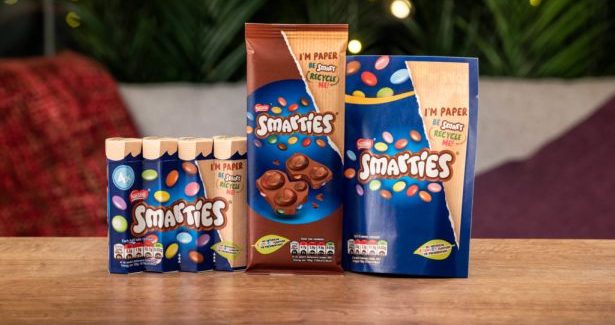 Smarties is going green – though you'll still find all your favourite colours. Nestlé has announced that all Smarties packaging will be sourced from recyclable paper.
This is a significant move for Nestlé as only 10% of the Smarties range was already packed in recyclable paper packaging.
Smarties will be the first global confectionary brand to move to paper packaging and the rollout of the new material is expected to be completed in Ireland and the UK by April. The move will see 250 million plastic packs removed each year.
The new green approach will cover Smarties' range of multipacks, sharing bags and giant hexatubes.
This move by Nestlé is part of the company's overall strategy to make all packaging recyclable or reusable by 2025 and to reduce the use of virgin plastics by 33% in the same period of time.
Other Brands Going Green
All across the world we are seeing thousands of brands looking to reduce their use of plastic packaging from every stage in the supply chain.
PVH, the owners behind Calvin Klein and Tommy Hilfiger, are also working to the goal of using 100% sustainably and ethically sourced packaging by 2025. The company is making good process and as of 2018, 74% of its packaging is fully recyclable.
Sometimes it is the simple things that can help a brand to embrace eco-friendly packaging. Gucci for example will only issue gift boxes to customers when they request them. Purchase a Gucci product and you'll notice that they are no longer using glossy plastic bags. The iconic brand has opted for sourced beater dyed paper packaging with luxe cotton ribbons instead of polyester handles.
There are clear benefits for brands aiming to introduce green packaging. In addition to reducing costs and making a positive environmental impact, the approach can often help to win market share amongst environmentally aware consumers.