Double Entendres can Double the Return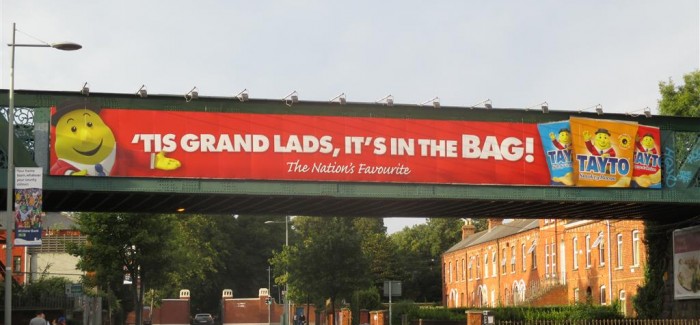 As thousands of GAA fans flocked into Croke Park over the summer, they may have spotted a clever Tayto advert sprawled across the Jones Road railway bridge.
Trying to calm anxious nerves, Mr Tayto looks down reassuringly on fans,
'Tis grand lads, it's in the bag!'
Double entendres can be used in advertisements to great effect. In this example, it works perfectly as the advertisement is placed strategically outside Croke Park. Tayto has deep roots in Irish GAA and one could easily think of a friend or family member who would panic if they didn't have a bag of Tayto with them to support their local team. With a playful and confident tone, the tagline disarms us and brings a smile to our faces. Advertisers generally agree that effective humour can have a positive impact on brand attitude and brand recall.
The advert is part of an integrated campaign to create an emotional connection with GAA fans. Tayto recently placed their logo on the Meath football jersey and over the summer Mr. Tayto and his team of helpers could be found handing out complimentary bags of crisps at some of the major clashes at Croke Park.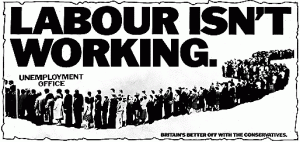 LABOUR ISN'T WORKING
The most effective adverts that use double entendres are those in which both meanings relate back to the product or message. A good example is Saatchi & Saatchi's election poster for the UK Conservative Party back in 1979. The poster features a long dole queue with a bold headline 'LABOUR ISN'T WORKING'.
'Labour' refers not only to the opposition party but to the growing unemployment rate. The campaign helped to bring down the labour government and catapult Magaret Thatcher to Downing Street.