Carlsberg Sales Drop To 2007 Levels Due To Pandemic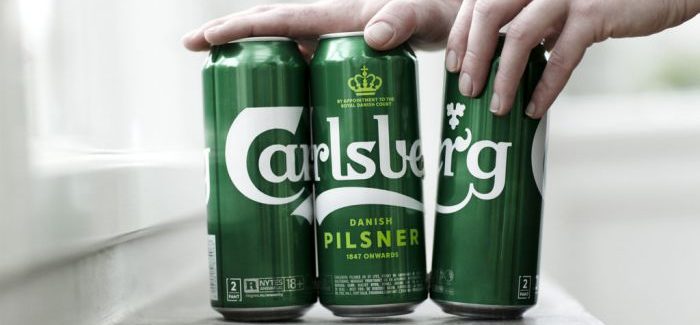 Sales at Carlsberg, the Danish brewer, were down 8.4% in 2020 and were impacted hugely by the pandemic which shut down bars and restaurants across the world. Volume sales were down 3.8%.
Full-year sales declined in Western Europe (-13%) and Asia, (-5%) while Eastern Europe saw an increase of 1%.
Sales had reached their lowest level since 2007. Looking at on-trade sales from clubs, bars and restaurants, sales had fallen by more than 20% in the year. Off-trade sales (in-store and online) were up year-on-year by mid-single digit percentages.
The results were slightly below analyst expectations. Volume sales of Carlsberg and Tuborg were down 10%. 1664 Blanc and Somersby performed better with volume sales up 8% and 2% respectively.
"During 2020, we adjusted our cost base to a new reality and implemented new ways of working. These changes have led to a more flexible company, making us optimistic about our ability to deliver on our longterm strategic priorities, " commented CEO Cees 't Hart. "While the pandemic is not yet behind us and we don't know how long it will remain a challenge in 2021, we believe that Carlsberg will emerge even stronger from the crisis."
2021 is expected to be another tough year with many restrictions still in place for the first half of the year. Bosses are hopeful that restrictions will be lifted in some markets by the summer.
Despite the turmoil in the market in 2020, operating profit for 2020 was down by just 3.1% to 9.7bn Danish crowns. The firm is expecting operating profit growth in the region of 3-10% in 2021.
Alcohol-Free Focus

The launch of Carlsberg Alcohol-free beer 0.0 was deemed a success with the alcohol-free portfolio up by 11% in 2020.
Carlsberg will be fighting for market share in this growing category. Heineken recently rolled out its alcohol-free variant to 57 countries which helped to drive volume sales of its flagship brand by 8.3% in most recent financial results.