Coca-Cola Ireland Replaces Logo With Inspiring Messages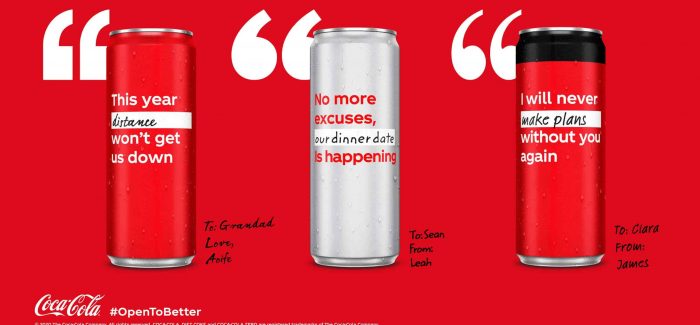 If you have recently picked up a Coca-Cola from your local shop, you may have noticed that the iconic logo is missing and has been replaced with a series of inspiring and uplifting messages.
The new design is part of a new campaign called 'Open To Better' from Coca-Cola Ireland and will run for a limited time across the country.
Over 25 inspiring messages have been chosen and can be found across the range of Coca-Cola, Coca-Cola Zero Sugar and Diet Coke cans.
The new packaging includes messages such as: 'I will never watch our series without you again', 'I promise to listen more just for you', and 'I'm not the best at cooking but I'll try'.
Commenting on the move, Karen O'Shea, marketing manager at Coca-Cola Ireland said: "At Coca-Cola, we see the world through a glass half full lens, and that's why, despite the challenges we've all faced, the new Open to Better campaign focuses on inspiring hope and optimism in 2021."
Personalise Your Can
Consumers will also have the chance to design their own unique Coca-Cola can with their personalised messaging online.
"By having positive messages replace the iconic logos and handing over Coca-Cola cans to consumers to personalise with their own #OpenToBetter pledges, we hope to in some small way help people to feel positive going into the new year and to bring a little fun into our every day lives," O'Shea added.
Personalised cans will cost €3.50 plus postage and packaging.
Other Successful Campaigns
It is not the first time that Coca Cola have stripped their logo from their packaging. Back in 2013, Coca-Cola issued limited edition bottles with over 150 different names printed on the labels. Aoife, Gráinne, Cathal and Áine were among the name names that featured.
The 'Share A Coke' campaign was extremely successful and was copied by many other brands across Ireland and internationally.